Our luxurious Fuerteventura villa is ideal for couples or families visiting this beautiful Canary Island. The holiday villa is detached and has its own private heated swimming pool. To enhance your holiday enjoyment, the villa has a relaxing hot-tub.
Ensuring all members of your group are kept amused we have installed UK Satellite TV and Wi-Fi. The villa is modern and beautifully presented with every conceivable amenity to enhance your stay. From air conditioning to 'baby' pools, for our smallest visitors, the villa offers the opportunity to relax and unwind.
Whether you are looking for a well-earned break in Summer or want to experience that Winter sunshine, our private Fuerteventura Villa is a great choice for you and your family and friends. Fuerteventura is the second largest of the Canary Islands and yet it is the least developed out of the four major islands.
Located just 84 km off the African coast, this beautiful island enjoys a year-round perfect climate with an average annual temperature of 25°C. It boasts spectacular scenery as well as wonderful golden beaches. In winter and summer, this island is blessed with up to 10 hours of sunshine per day allowing you and your group to relax in this beautiful location.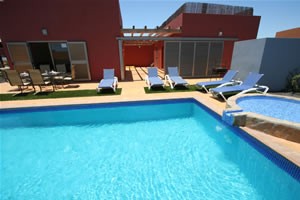 The private family villa is situated on one of the Fuerteventura Championship 18 hole golf courses. This allows you to be just a few minutes drive from the popular family resort of Caleta de Fuste. Here you have a range of shops, bars, restaurants and children's areas where you can enjoy fantastic meal or a local 'tipple'. These private villas are only a ten minute drive from Fuerteventura's airport making them an ideal holiday base for all the family.
About our Fuerteventura Villa
Villa Nicola is a large three bedroom detached Private villa. It sleeps up to nine in comfort and has a Pool and a Hot-Tub. Being part of the La Maresia residential development on the Salinas de Antigua Golf Course in Costa Caleta, Villa Nicola benefits from views of the golf course and sea from both the villa and from the roof terrace.